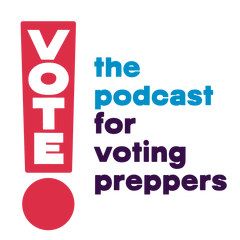 HELLO VOTERS
Thank you for helping us spread the word — make sure to ask folks to like, rate, and subscribe on Apple, Stitcher or Google Podcasts!
here is your weekly to-do's:
Subscribe, rate, and spread the love about the pod: bit.ly/vote-the-pod

Read the Native American Rights Fund report on voting rights: Obstacles At Every Turn

Pick up some voting swag: SHOP HERE

Power the pod! Donate to Spread the Vote and Vote.org today

Need an ID? Visit: https://spreadthevote.org/vote/

Double check your voter registration here: http://vote.org/

Become a poll worker: Visit workelections.com

Encourage employers to give workers the day off on 11/3: http://electionday.org/
VOTE! THE PODCAST
Let's vote through this apocalypse together. The executive directors of Vote.org and Spread The Vote are here to answer your voting questions with activists, politicians, and your favorite celebs. Vote! is for anyone who has ever felt powerless, overwhelmed, under-resourced, or just plain lost when it comes to voting -- aka pretty much all of us!
---